Navigating the RN to BSN Program Journey:  19 Steps to Empowering Success
Discover everything you need to know about RN to BSN Program, from curriculum details to admission requirements. Learn about the advantages and disadvantages, accreditation, and specialties offered. Find out if an online option suits you and get insights on financial aid and scholarships.
What is an RN to BSN Program?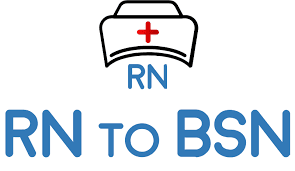 An RN to BSN program is designed for registered nurses (RNs) who hold an associate degree or diploma in nursing and wish to advance their education to earn a Bachelor of Science in Nursing (BSN) degree. This program equips nurses with a broader understanding of healthcare, including critical thinking skills, leadership abilities, and specialized knowledge in areas like community health, research, and nursing management.
In an RN to BSN program, students build on their existing nursing knowledge and skills, delving into subjects such as health assessment, nursing research, and public health. The program emphasizes evidence-based practice, allowing nurses to incorporate the latest research findings into their clinical decision-making. It also focuses on leadership, preparing nurses to take on supervisory roles and contribute effectively to healthcare teams.
How Long Does an RN to BSN Program Take?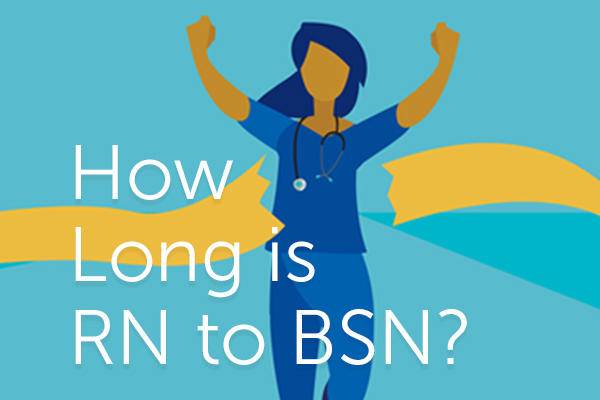 The duration of an RN to BSN program typically ranges from 12 to 24 months, depending on various factors such as the institution's curriculum structure, course load, and individual student pacing. Many programs are designed to accommodate working professionals, offering flexible scheduling options like part-time or online study. This allows registered nurses to continue their employment while pursuing their BSN, making it a convenient and accessible option for career advancement.
The program's length may also be influenced by any transferable credits from prior education or experience. Some students may have completed prerequisites or general education courses, shortening the overall time required to earn their BSN degree. It's advisable for prospective students to consult with program advisors to understand the specific time commitment based on their unique circumstances.
Curriculum for RN to BSN Program
The curriculum of an RN to BSN program is carefully crafted to provide a comprehensive education in nursing theory, practice, and critical thinking. Courses cover a wide array of subjects, including advanced health assessment, nursing informatics, community health nursing, and leadership in healthcare. Additionally, students engage in clinical experiences and may complete a capstone project, synthesizing their learning and demonstrating their proficiency in various nursing competencies.
Furthermore, the curriculum often integrates elements of cultural competence, ethical decision-making, and evidence-based practice. This ensures that graduates are well-prepared to address the diverse healthcare needs of individuals, families, and communities, while upholding the highest ethical standards in their practice. The program is structured to foster a well-rounded and forward-thinking approach to nursing care.
Admission Requirements for RN to BSN Program
Admission requirements for an RN to BSN program vary by institution but generally include:
Possession of an active, unencumbered RN license.
Graduation from an accredited nursing program (associate degree or diploma).
Minimum GPA requirements, often around 2.5 to 3.0 on a 4.0 scale.
Submission of official transcripts from prior education.
Letters of recommendation from professional or academic sources.
Personal statement or essay detailing career goals and motivations for pursuing a BSN.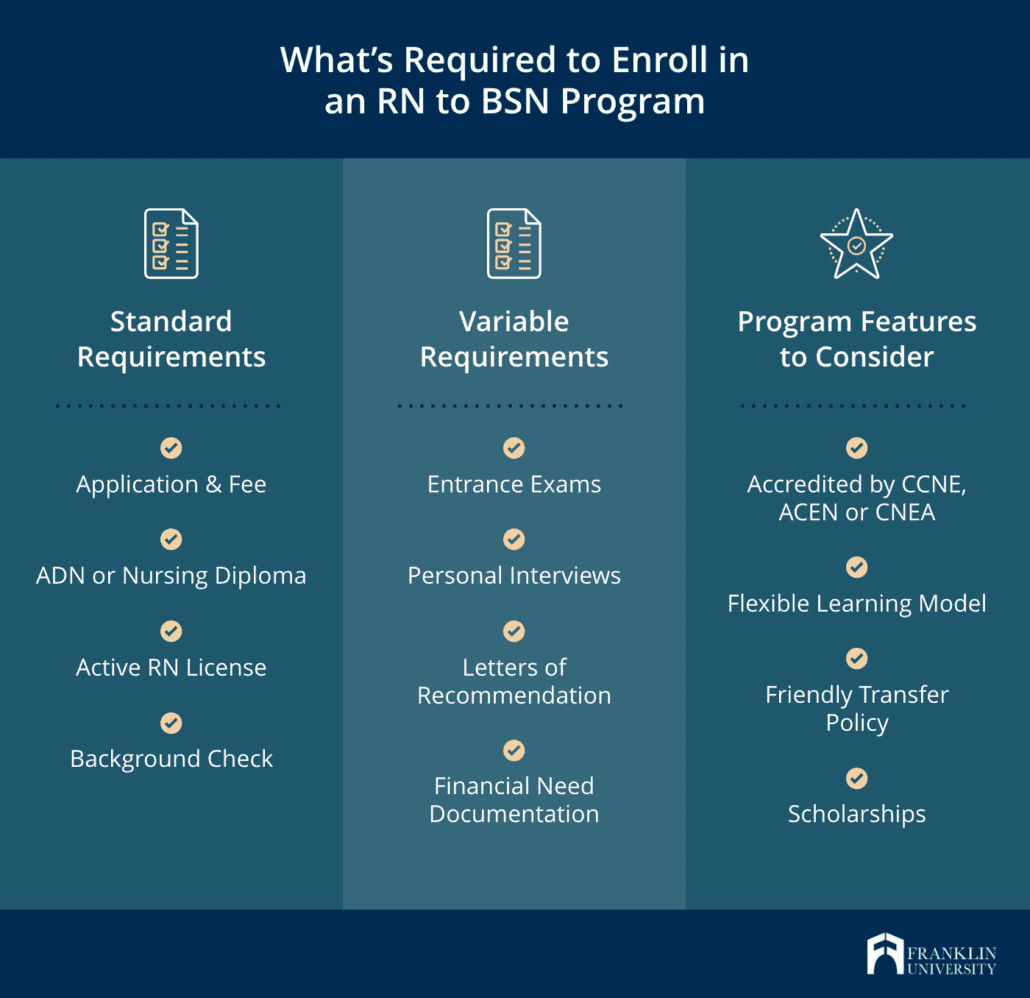 Additionally, some programs may require specific prerequisite courses in areas like anatomy, physiology, and microbiology. Prospective students are encouraged to review the specific admission criteria of the institution they are applying to, as requirements may vary.
What are the prerequisites for RN to BSN Program?
Prerequisites for an RN to BSN program commonly include foundational courses in the sciences, including anatomy, physiology, and microbiology. Additionally, students may need to complete general education courses such as English composition, mathematics, and social sciences. These prerequisites serve as a foundation for the more advanced nursing coursework in the BSN program. It's essential for prospective students to confirm specific prerequisite requirements with the institution they plan to attend, as prerequisites may vary.
How much does an RN to BSN Program Degree Cost?
The cost of an RN to BSN program can vary widely depending on factors like the institution, location, and format (on-campus or online). On average, tuition for an RN to BSN program ranges from $10,000 to $30,000. It's crucial for prospective students to consider additional expenses such as textbooks, clinical fees, and technology requirements. Financial aid options, including scholarships, grants, and loans, are often available to help offset the costs. Many institutions also offer payment plans or employer reimbursement programs to support students in pursuing their BSN without incurring excessive financial strain.
Is an RN to BSN Program Worth It?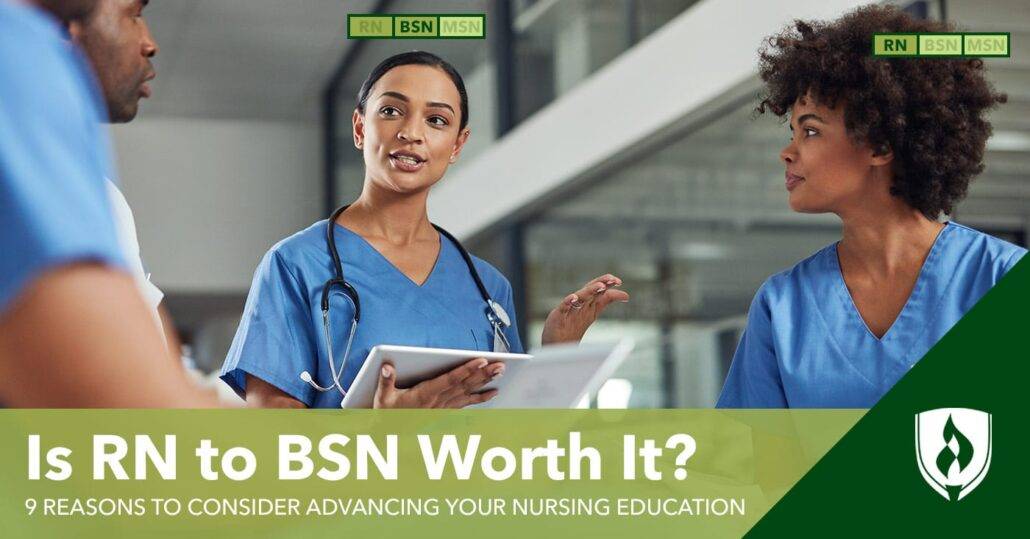 Absolutely, pursuing an RN to BSN program is a valuable investment in a nurse's career. A BSN degree opens up a broader range of opportunities, including access to higher-paying positions, leadership roles, and specialized areas of practice. It also enhances critical thinking and research skills, allowing nurses to provide more comprehensive, evidence-based care. Moreover, many healthcare institutions now require or strongly prefer nurses to hold a BSN, making it an essential credential for career advancement in today's competitive job market.
Why Is RN to BSN Program Accreditation Important?
Accreditation is a critical factor to consider when choosing an RN to BSN program. Accredited programs meet rigorous standards set by accrediting bodies, ensuring that the education provided meets or exceeds industry benchmarks. Graduating from an accredited program demonstrates to employers that a nurse has received a high-quality education and is well-prepared to deliver safe and effective care. Additionally, it may be a prerequisite for pursuing advanced degrees or certifications in nursing. Prospective students should verify that their chosen program is accredited by a reputable accrediting agency recognized by the U.S. Department of Education.
What is the Employment Outlook for RN to BSN Program Graduates?
The employment outlook for RN to BSN program graduates is highly favorable. With the healthcare industry experiencing consistent growth, there is a steady demand for highly skilled and educated nurses. BSN-prepared nurses are sought after for their advanced clinical expertise, critical thinking abilities, and leadership potential. They are well-positioned for a wide range of roles in settings such as hospitals, clinics, community health organizations, and educational institutions. Additionally, BSN-prepared nurses often have opportunities for career advancement, including supervisory and administrative positions, as well as specialized nursing roles in areas like pediatrics, oncology, and informatics.
What Makes This Major Unique?
What sets an RN to BSN program apart is its focus on building upon the practical experience of registered nurses. While traditional BSN programs cover similar foundational coursework, the RN to BSN track recognizes and values the expertise that experienced nurses bring to the table. This program allows nurses to further develop their skills, gain specialized knowledge, and expand their understanding of healthcare delivery models. It's a pathway that honors the dedication and commitment of registered nurses while equipping them for enhanced roles in patient care and healthcare leadership.
Featured RN to BSN Program Specialties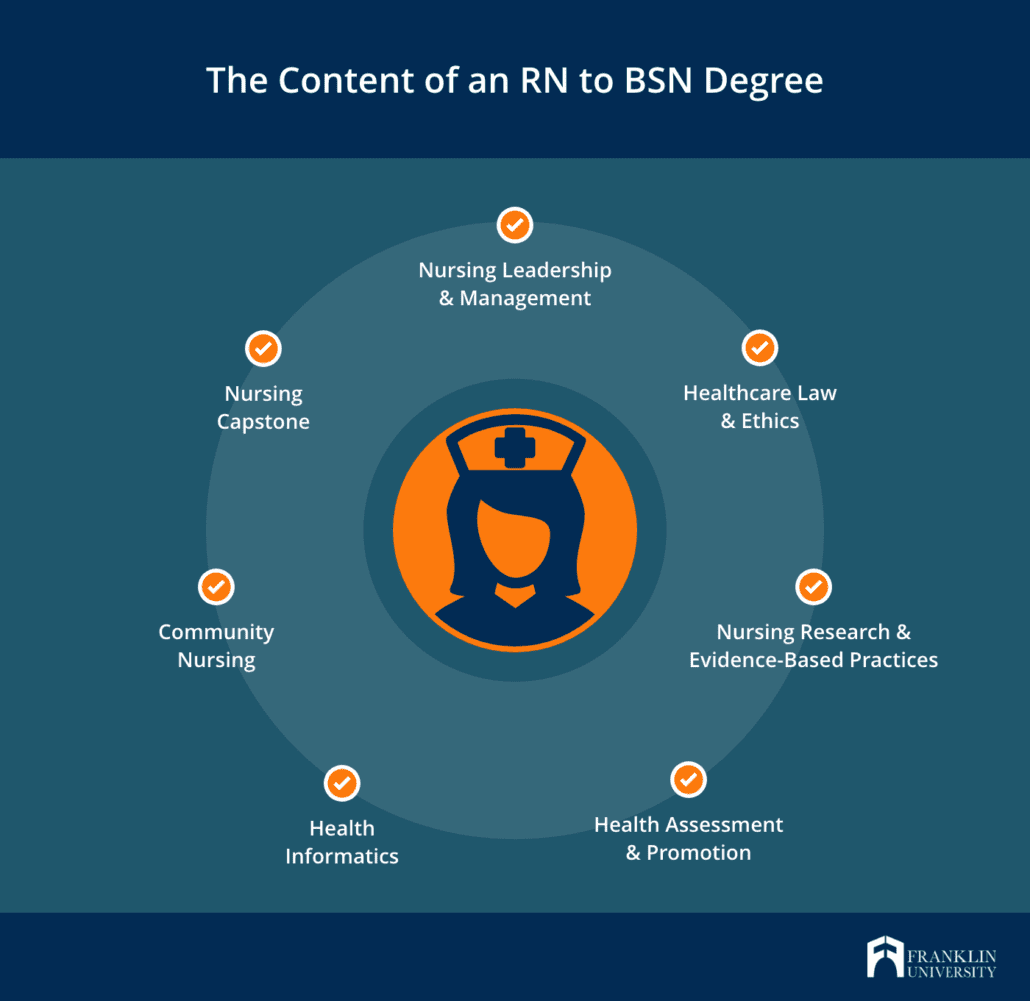 RN to BSN programs often offer a range of specialized tracks or concentrations to cater to the diverse interests and career goals of nursing students. These specialties allow nurses to delve deeper into specific areas of healthcare and gain expertise in fields such as:
Community Health Nursing: Focuses on promoting health and preventing illness within communities, emphasizing health education and population-based interventions.
Nursing Informatics: Integrates technology and data management to improve healthcare outcomes, making it an ideal choice for those interested in healthcare technology and data analysis.
Leadership and Management: Equips nurses with the skills to oversee healthcare teams, manage resources, and implement quality improvement initiatives.
Pediatric Nursing: Concentrates on the specialized care of infants, children, and adolescents, preparing nurses for roles in pediatric clinics, hospitals, and schools.
Geriatric Nursing: Addresses the unique healthcare needs of elderly patients, focusing on promoting quality of life and managing complex health conditions.
How to Get an RN to BSN Program Degree
To embark on the journey of obtaining an RN to BSN degree, registered nurses should follow these steps:
Research and Choose a Program: Explore accredited institutions offering RN to BSN programs and consider factors like location, format (on-campus or online), and specialties offered.
Meet Admission Requirements: Ensure you meet the program's admission criteria, including holding an active RN license, meeting GPA requirements, and completing any necessary prerequisites.
Apply for Admission: Submit your application, including official transcripts, letters of recommendation, and a personal statement or essay outlining your career goals.
Financial Planning: Explore financial aid options, including scholarships, grants, and loans, and consider employer reimbursement programs or payment plans.
Complete the Program: Engage in coursework, clinical experiences, and any capstone projects required by the program.
Graduation and Licensure: Upon completion, you will be awarded your BSN degree. Ensure your RN license is current and meets any state-specific requirements.
Can I get my RN to BSN Program in Nursing Online?
Yes, many institutions offer RN to BSN programs in an online format, providing a flexible and convenient option for working nurses. Online programs allow students to complete coursework and assignments from the comfort of their own homes, accommodating busy schedules and minimizing the need for travel. It's important to choose an accredited online program from a reputable institution to ensure a quality education and to verify if there are any in-person requirements, such as clinical placements or exams.
What to Expect from an Online RN to BSN Program
An online RN to BSN program offers a dynamic learning experience, typically featuring:
Interactive Course Materials: Engaging multimedia content, virtual simulations, and discussion forums to facilitate learning.
Flexible Scheduling: Access to lectures and assignments on your own time, allowing you to balance work, family, and education.
Dedicated Support: Online programs often provide resources such as academic advisors, technical support, and virtual libraries to assist students.
Clinical Requirements: Some programs may require in-person clinical experiences, which can often be arranged in the student's local area.
Technology Requirements: Students will need a reliable internet connection and access to a computer or device that meets the program's technical specifications.
Difference between RN to BSN Program and RN to MSN Program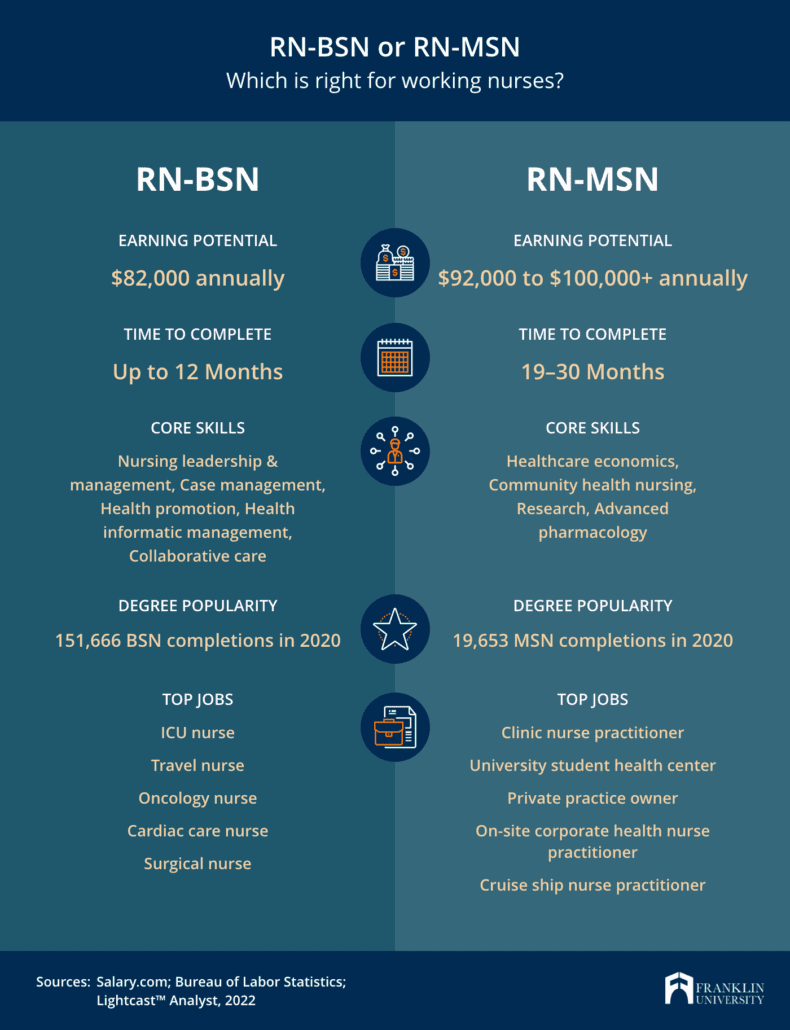 While both the RN to BSN and RN to MSN programs are designed for registered nurses seeking advanced education, they differ in their focus and outcomes:
RN to BSN Program: This program leads to a Bachelor of Science in Nursing (BSN) degree. It provides a comprehensive education in nursing theory, practice, and leadership, preparing nurses for a wide range of clinical and administrative roles. The BSN is often considered a stepping stone to further education in nursing.
RN to MSN Program: This program leads to a Master of Science in Nursing (MSN) degree. It offers a more specialized and advanced education, with a focus on areas such as nurse practitioner, nurse educator, or nurse administrator. The MSN opens doors to advanced practice roles and leadership positions.
What to look for in a school
When considering an RN to BSN program, there are several key factors to evaluate in a prospective institution:
Accreditation: Ensure the program and institution are accredited by a recognized accrediting body. This ensures that the education meets high-quality standards.
Curriculum: Review the curriculum to ensure it covers a wide range of nursing topics, including advanced practice areas, leadership, and evidence-based practice.
Faculty Qualifications: Research the qualifications and experience of the faculty members to ensure they bring expertise and practical knowledge to the program.
Clinical Opportunities: Investigate the availability of clinical experiences, as they are a vital component of nursing education.
Flexibility: Consider whether the program offers flexible scheduling options to accommodate your work and personal commitments.
Student Support Services: Look for institutions that offer academic advising, career counseling, and other support services to help students succeed.
Cost and Financial Aid: Evaluate the total cost of the program, including tuition, fees, and additional expenses. Explore available financial aid options.
Graduation Rates and Success of Alumni: Research the program's graduation rates and the success of its alumni in terms of licensure pass rates and job placement.
Financial Aid and Scholarships
Financial aid options for RN to BSN programs may include:
Federal Student Aid (FAFSA): Completing the FAFSA can determine eligibility for federal grants and loans.
Scholarships: Many organizations, foundations, and institutions offer scholarships specifically for nursing students. These can be based on merit, need, or specialized areas of interest.
Grants: Some states or institutions offer grants for nursing education, which do not need to be repaid.
Employer Reimbursement: Some employers may offer tuition reimbursement or assistance programs for employees pursuing further education.
Loan Forgiveness Programs: Certain government programs forgive a portion of student loans for nurses working in underserved or critical-need areas.
Required Licenses and Available Certifications
Upon completion of an RN to BSN program, nurses must hold an active, unencumbered Registered Nurse (RN) license to practice. This license is typically obtained by passing the National Council Licensure Examination for Registered Nurses (NCLEX-RN) in the United States. Additionally, nurses may be required to meet state-specific licensing requirements, which can include background checks, continuing education, or other criteria.
Some popular certifications for BSN-prepared nurses include:
Certified Medical-Surgical Nurse (CMSRN): Focused on adult medical-surgical nursing, demonstrating proficiency in caring for patients with acute and chronic illnesses.
Certified Pediatric Nurse (CPN): Specializing in pediatric nursing, indicating expertise in caring for infants, children, and adolescents.
Certified Nurse Educator (CNE): Designed for nurses in educational roles, showcasing proficiency in teaching and curriculum development.
Certified Nurse Manager and Leader (CNML): Targeted at nurses in leadership and management positions, highlighting skills in healthcare management and administration.
Certified Informatics Nurse (RN-BC): Centered on nursing informatics, showing competence in healthcare technology and data management.
What are the 5 advantages and 5 disadvantages of RN to BSN Program
Advantages:
Career Advancement: BSN-prepared nurses have access to a wider range of career opportunities, including leadership roles and specialized practice areas.
Higher Earning Potential: BSN-prepared nurses typically earn higher salaries compared to those with an associate degree in nursing.
Enhanced Critical Thinking: The BSN curriculum emphasizes critical thinking and evidence-based practice, enhancing a nurse's ability to make informed clinical decisions.
Professional Development: BSN programs provide a well-rounded education, preparing nurses for a variety of clinical scenarios and healthcare environments.
Requirement for Advanced Degrees: For nurses considering pursuing advanced practice roles or further education, a BSN is often a prerequisite for entry into master's or doctoral programs.
Disadvantages:
Time Commitment: Completing an RN to BSN program requires a significant investment of time, especially for nurses who are working full-time.
Financial Costs: Tuition and associated expenses can be a significant financial burden for some students, although financial aid options are available.
Balancing Work and Education: Juggling work responsibilities with coursework and clinical requirements can be challenging for working nurses.
Clinical Placement Availability: Depending on location, securing appropriate clinical placements may be competitive or logistically challenging.
Not All Employers Require a BSN: While the trend is shifting towards preferring BSN-prepared nurses, some employers may still hire nurses with an associate degree.
Conclusion
In conclusion, pursuing an RN to BSN program is a significant step towards advancing a nursing career. With a comprehensive curriculum, opportunities for specialization, and a strong foundation in evidence-based practice, BSN-prepared nurses are well-equipped to meet the evolving demands of the healthcare industry.
Frequently Asked Questions
Who has the easiest RN to BSN program?
Determining which RN to BSN program is the "easiest" can be subjective and may vary based on individual learning styles and preferences. It's important to note that all accredited programs are designed to meet specific educational standards. Factors that may influence the perceived ease of a program include prior education, personal strengths, and the support provided by the institution. Prospective students should focus on finding a program that aligns with their learning style and career goals rather than seeking the "easiest" option.
How long is the RN to BSN program at WGU?
Western Governors University (WGU) offers an online RN to BSN program that is designed to be completed in approximately 6 to 18 months. The duration may vary depending on factors such as the student's prior education, transfer credits, and individual pacing. WGU's competency-based model allows students to progress at their own pace, which can lead to a more flexible and personalized approach to completing the program.
What is the fastest RN to BSN program online?
The speed at which a student can complete an RN to BSN program online depends on several factors, including the institution's program structure, transfer credit policies, and the student's individual pace. Some universities, like Western Governors University (WGU), offer accelerated options that allow motivated students to complete their BSN in as little as 6 months. However, it's important for students to carefully review program requirements and consider their own time commitments and learning style when determining what constitutes the "fastest" program for them.
A Page will cost you $12, however, this varies with your deadline. 
We have a team of expert nursing writers ready to help with your nursing assignments. They will save you time, and improve your grades. 
Whatever your goals are, expect plagiarism-free works, on-time delivery, and 24/7 support from us.  
Here is your 15% off to get started. 
Simply:
Place your order (Place Order) 
Click on Enter Promo Code after adding your instructions  
Insert your code –  Get20
All the Best, 
Cathy, CS