According to the American Association of Colleges of Nursing, the Masters prepared nurse "recognizes that the master's-prepared nurse applies research outcomes within the practice setting, resolves practice problems, works as a change agent, and disseminates results." Many research ideas emerge from practice and/or the educational environment. Formulating a well-built research question is challenging. Asking the right question facilitates the search process when conducting a review of the literature.
Responses need to address all components of the question, demonstrate critical thinking and analysis, and include peer reviewed journal evidence to support the student's position.
Please be sure to validate your opinions and ideas with citations and references in APA format.
Picot-Solution
Anxiety Management Techniques for Patients on Hospice
Anxiety is a psychological condition prevalent among patients in hospice care (Kozlov et al., 2019). The patients often exhibit anxiety-related behaviors, like restlessness, irritability, and sadness. In this case, hospice care caregivers should indicate awareness of the unique factors instigating each patient's anxiety. For instance, some patients get anxious due to pain from an underlying condition, regrets in life, and unaccomplished dreams. Henceforth, Gonella et al. (2019) illustrate various techniques that can be implemented to help patients manage anxiety and extend their lives. They include support from family members, friends, and loved ones which paves the way for reconciliation and forgiveness, reducing the patient's burden. Counseling can also help patients cope with isolation and manage unexpected experiences in end-of-life care. Research on anxiety management techniques in end-of-life care provides a comprehensive framework for understanding the needs and wishes of the patients (Zweers et al., 2019). Respecting these needs is crucial in extending the patients' lives in hospice care. Therefore, hospice caregivers must implement anxiety management techniques to elongate the lives of terminally ill patients.(Anxiety Management-Picot Sample Essay)
PICOT Question
In hospice patients with anxiety (P), how do spending time with loved ones and trusted friends (I) compared to the absence of loved ones and trusted friends (C) reduce irritability and restlessness (O) within the final six months to death (T)?
The PICOT framework describes a clinical question based on the anxiety levels of patients enrolled in hospice. The population highlighted in the framework are terminally-ill patients on a death bed (P) exhibiting the highest anxiety levels (Gonella et al., 2019). The presence of loved ones and trusted friends (I) is among the interventions for reducing irritability and restlessness (O) since it calms and assures the patients' value. On the contrary, the absence of trusted friends and loved ones (C) reduces the time of enrolment in hospice below six months before death.(Anxiety Management-Picot Sample Essay)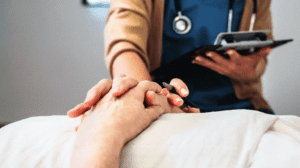 References
Gonella, S., Basso, I., De Marinis, M. G., Campagna, S., & Di Giulio, P. (2019). Good end-of-life care in a nursing home according to the family carers' perspective: A systematic review of qualitative findings. Palliative medicine, 33(6), 589-606. https://doi.org/10.1177/0269216319840275
Kozlov, E., Phongtankuel, V., Prigerson, H., Adelman, R., Shalev, A., Czaja, S., … & Reid, M. C. (2019). Prevalence, severity, and correlates of symptoms of anxiety and depression at the very end of life. Journal of pain and symptom management, 58(1), 80-85. https://doi.org/10.1016/j.jpainsymman.2019.04.012
Zweers, D., de Graeff, A., Duijn, J., de Graaf, E., Witteveen, P. O., & Teunissen, S. C. (2019). Patients' needs regarding anxiety management in palliative cancer care: a qualitative study in a hospice setting. American Journal of Hospice and Palliative Medicine®, 36(11), 947-954. https://doi.org/10.1177/1049909119846844
A Page will cost you $12, however, this varies with your deadline. 
We have a team of expert nursing writers ready to help with your nursing assignments. They will save you time, and improve your grades. 
Whatever your goals are, expect plagiarism-free works, on-time delivery, and 24/7 support from us.  
Here is your 15% off to get started. 
Simply:
Place your order (Place Order) 
Click on Enter Promo Code after adding your instructions  
Insert your code –  Get20
All the Best, 
Cathy, CS