A Comprehensive Guide to BSN Programs: 19 Steps to Unlocking the Potential
Discover all you need to know about Bachelor of Science in Nursing (BSN) programs, including curriculum, admission requirements, costs, and employment outlook. Learn the difference between BSN and RN, explore specialties, and find the best route for your nursing career.
What is a BSN?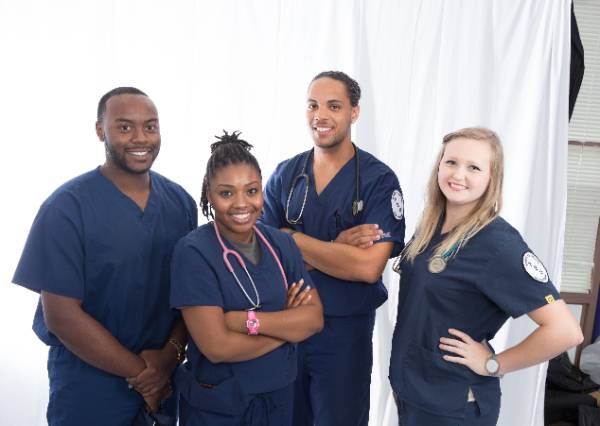 A BSN, or Bachelor of Science in Nursing, is a four-year undergraduate program meticulously crafted to empower aspiring nurses with a profound understanding of nursing theory, hands-on clinical practice, and adept healthcare management skills. BSN graduates are primed to shoulder a wider spectrum of responsibilities in patient care, rendering them highly sought-after assets in the healthcare industry.
How Long Does a BSN Take?
A Bachelor of Science in Nursing (BSN) program typically takes about four years to complete. This duration includes a blend of general education courses and specialized nursing coursework. However, for individuals who already hold a non-nursing bachelor's degree, there are accelerated BSN programs available, which can be completed in as little as 12 to 18 months. These programs are designed to build upon the existing knowledge base of students.
For those who are seeking a more flexible option, some institutions offer part-time BSN programs that allow students to spread out their coursework over a longer period, accommodating work or other commitments. It's important to note that the duration of a BSN program may vary depending on the specific institution and its curriculum structure
Curriculum for BSN
The BSN curriculum casts a wide net, encompassing subjects like anatomy, physiology, pharmacology, pathophysiology, nursing research, and community health. Emphasis is also placed on immersive clinical experiences in diverse healthcare settings, furnishing students with hands-on training and a taste of real-world patient care scenarios.
Admission Requirements for BSN
Admission criteria for BSN programs may vary by institution, but typically include holding a high school diploma or equivalent, successfully completing prerequisite courses (such as biology, chemistry, and mathematics), maintaining a minimum GPA, submitting letters of recommendation, and presenting a personal statement. Certain programs may also necessitate completion of standardized tests like the SAT or ACT.
What are the Prerequisites for BSN?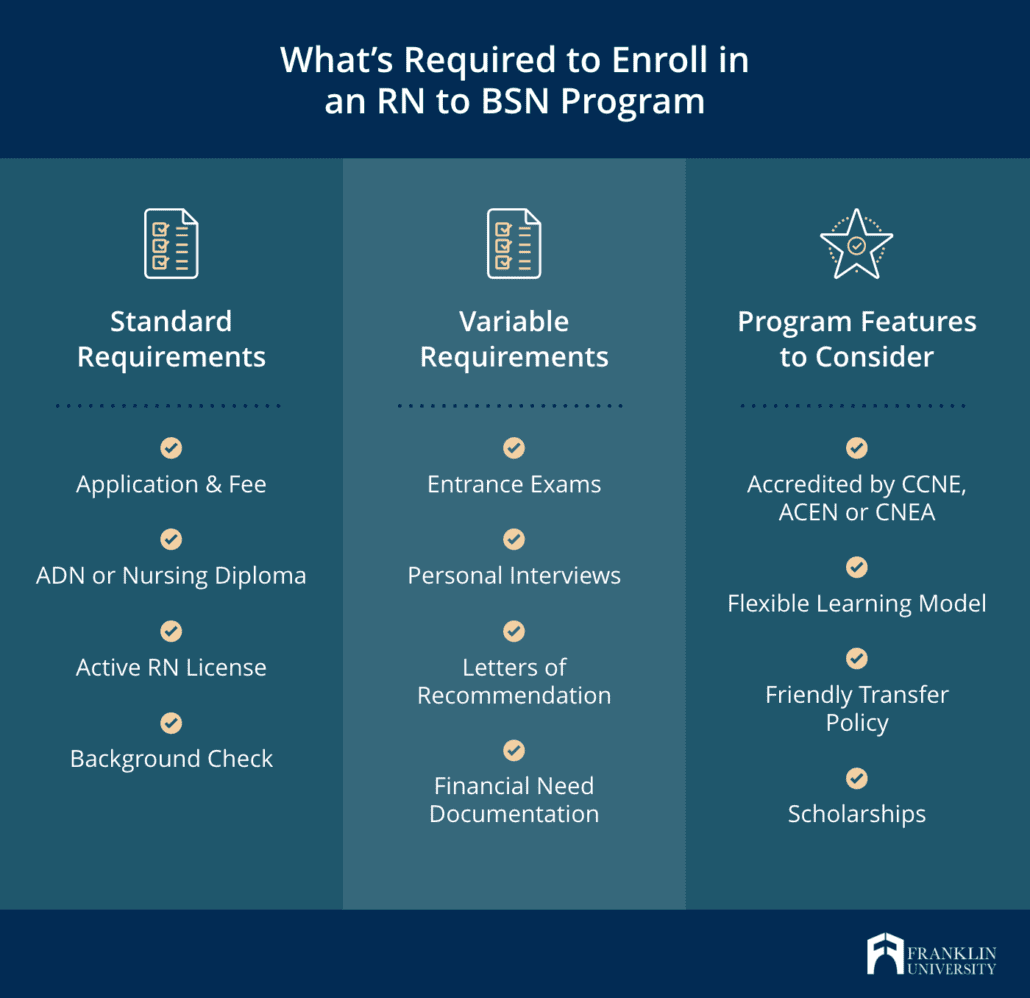 Prerequisites for a BSN program typically include a set of foundational courses that provide the essential knowledge needed for success in the program. These commonly include biology, chemistry, and mathematics courses, along with general education requirements. These courses serve as building blocks for the more advanced nursing coursework that will be encountered in the BSN program. Additionally, some programs may require a minimum GPA, letters of recommendation, and a personal statement as part of the admission process.
It's advisable for prospective BSN students to carefully review the specific prerequisite requirements of the institutions they are interested in, as requirements may vary slightly from one program to another. Meeting these prerequisites ensures that students have a solid foundation to successfully navigate the rigorous coursework of a BSN program.
How Much Does a BSN Degree Cost?
The financial investment in a BSN degree can fluctuate substantially, contingent upon variables such as the institution, geographical location, and whether the program is public or private. On average, tuition and associated fees for a BSN program range from $10,000 to $40,000 annually. However, financial aid, scholarships, and grants serve as invaluable tools to alleviate these costs.
Is a BSN Program Worth It?
Embarking on a BSN program represents a priceless commitment to your nursing career. Extensive research attests to the fact that nurses with a BSN often enjoy augmented earning potential and an expanded landscape of career advancement opportunities. Moreover, numerous healthcare facilities exhibit a preference for hiring BSN graduates, especially for leadership and specialized roles.
Why Is BSN Program Accreditation Important?
BSN program accreditation is of paramount importance for several reasons. Firstly, it ensures that the program meets established standards of quality and rigor set by accrediting bodies. This guarantees that students receive a well-rounded education that prepares them for the challenges of nursing practice.
Secondly, accreditation is often a requirement for licensure as a registered nurse. Nursing boards and state regulatory agencies typically mandate that graduates of nursing programs must have completed an accredited program in order to sit for the licensing exam. Therefore, attending an accredited BSN program is crucial for aspiring nurses to pursue their career in the field.
Furthermore, graduates from accredited programs are generally more competitive in the job market, as employers tend to value degrees from reputable and accredited institutions. It's a mark of assurance for both employers and patients that graduates have received a quality education in nursing.
What is the Employment Outlook for BSN Graduates?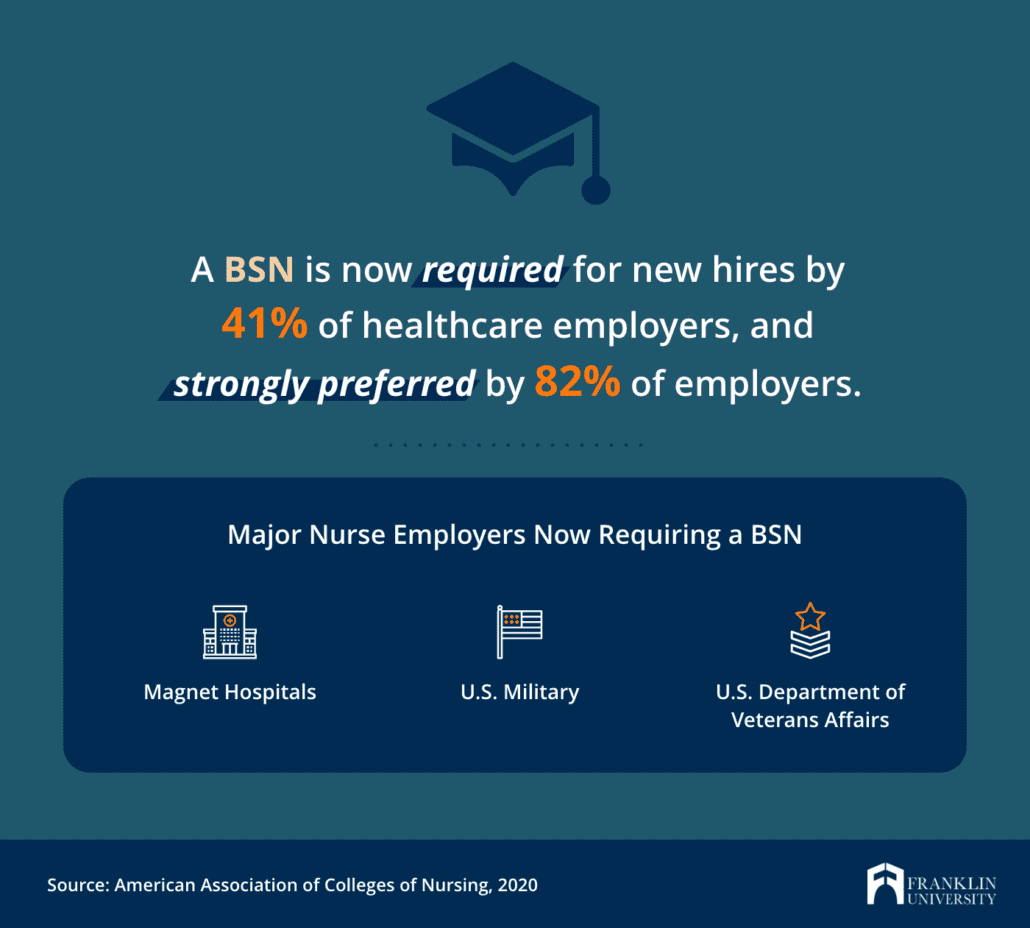 The employment outlook for BSN graduates is exceptionally positive. With an increasing demand for healthcare services driven by an aging population and advances in medical treatments, the need for qualified nurses is projected to continue growing. BSN graduates are often preferred by healthcare institutions because of their advanced training in critical thinking, leadership, and management skills. This positions them for a wide range of roles, including specialized areas like critical care, pediatrics, and more.
Moreover, BSN holders are well-positioned for career advancement and higher earning potential compared to those with lower levels of nursing education. Many healthcare facilities are actively seeking BSN graduates, especially for leadership positions and specialized roles within the healthcare system. This strong demand, combined with opportunities for professional growth, makes the employment outlook for BSN graduates highly favorable.
What Makes This Major Unique?
What sets a BSN program apart is its comprehensive approach to nursing education. While it equips students with the essential clinical skills and knowledge needed to deliver high-quality patient care, it also places emphasis on leadership, research, and community health. This comprehensive training prepares BSN graduates to take on diverse roles in various healthcare settings, from hospitals to community health organizations.
Additionally, a BSN program offers opportunities for specialization in specific areas of nursing, allowing graduates to become experts in fields like pediatrics, oncology, or geriatrics. This level of specialization enables nurses to focus on particular patient populations or healthcare areas, providing a unique depth of expertise that is highly valuable in today's complex healthcare landscape.
BSN vs. RN-to-BSN: Which Route is Best?
The choice between pursuing a traditional BSN program or an RN-to-BSN bridge program depends on individual circumstances and career goals. A BSN program is ideal for individuals who are starting their nursing education from scratch and do not hold a nursing license. It provides a comprehensive foundation in nursing theory, clinical practice, and healthcare management over a period of approximately four years.
On the other hand, an RN-to-BSN program is tailored for registered nurses (RNs) who already hold an associate's degree in nursing (ADN) or a nursing diploma. This bridge program allows RNs to further their education and earn a BSN degree. It is often completed in a shorter time frame, typically one to two years, building upon the existing knowledge and experience of the practicing nurse.
Ultimately, the best route depends on individual circumstances, including prior education and licensure status, career goals, and desired timeline for completing the BSN degree.
Featured BSN Specialties
BSN graduates have the opportunity to specialize in various areas of nursing, catering to specific patient populations or healthcare specialties. Some popular BSN specialties include pediatrics, where nurses work with infants, children, and adolescents; critical care, which focuses on patients with severe or life-threatening conditions; and oncology, where nurses provide care to individuals battling cancer. Other specialties may include geriatrics, maternity, mental health, and more.
These specialties allow BSN graduates to delve deeper into their chosen area of interest, becoming experts in their field. Specialization not only enhances job satisfaction but also opens up opportunities for advanced practice roles and specialized certifications.
How to Get a BSN
To embark on the journey toward a BSN, prospective students should start by researching accredited BSN programs that align with their goals and needs. Each program will have specific admission requirements, which may include submitting transcripts, letters of recommendation, and a personal statement. It's essential to thoroughly review and meet these requirements.
Once admitted, students should fully engage in their coursework and clinical experiences. Active participation and dedication to learning will maximize the benefits of the BSN program, preparing graduates to excel in their nursing careers.
What to Expect from an Online RN-to-BSN Program
Online RN-to-BSN programs offer a flexible avenue for working nurses to further their education. Anticipate a curriculum that builds upon your existing nursing knowledge, incorporating coursework in areas like leadership, research, and community health.
Difference between RN and BSN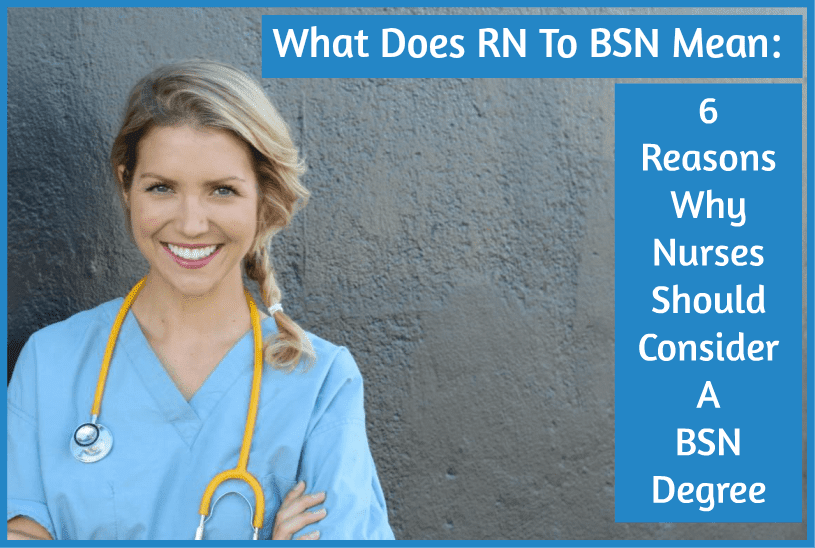 While both registered nurses (RNs) and BSN graduates are dedicated to providing direct patient care, the crux of the distinction lies in education and scope of practice. BSN holders receive supplementary training in leadership, research, and community health, empowering them to shoulder expanded responsibilities in patient care and administration.
The 6 reasons why Nurses should consider a BSN Degree:
Expanded Career Opportunities
Higher Earning Potential
Improved Patient Outcomes
Paves the Way for Advanced Practice and Specialization
What to Look for in a School
When selecting a BSN program, consider factors such as accreditation, faculty qualifications, clinical opportunities, and the track record of alumni. Additionally, assess the program's reputation, graduation rates, and the availability of resources for student support.
Financial Aid and Scholarships
Explore a diverse array of financial aid options, encompassing federal grants, scholarships, and loans. Many organizations and foundations extend scholarships tailored specifically for nursing students. Furthermore, contemplate work-study programs or seize the opportunity for employer-sponsored tuition reimbursement.
Post-completion of a BSN program, graduates must successfully navigate the NCLEX-RN examination to attain licensure as registered nurses. Depending on individual career aspirations, nurses may opt to pursue additional certifications in specialized fields like critical care, labor and delivery, or informatics
Can I Get My Bachelor's Degree in Nursing Online?
Absolutely, numerous accredited institutions extend online BSN programs. These programs provide a flexible learning environment, enabling students to harmonize their educational pursuits with existing commitments, including work. Ensuring the online program is accredited and aligns with your state's licensing requisites is pivotal.
Conclusion
Embarking on a BSN program signifies a pivotal stride towards a fulfilling and dynamic career in nursing. Armed with a comprehensive curriculum, diverse clinical exposures, and the potential for specialization, BSN graduates stand poised to meet the evolving demands of the healthcare industry. Whether you opt for a conventional or online program, investing in a BSN education opens the gateway to a multitude of opportunities in the realm of nursing.
Frequently Asked Questions
How many years is a BSN degree?

A Bachelor of Science in Nursing (BSN) degree typically takes four years to complete. This duration includes a combination of general education coursework and specialized nursing courses.

Who is eligible for BSN?

Individuals who are eligible for a BSN program typically include high school graduates or those with equivalent qualifications. The eligibility criteria may also include completion of prerequisite courses in subjects like biology, chemistry, and mathematics. Additionally, some programs may require a minimum GPA, letters of recommendation, and a personal statement as part of the admission process.

What comes first, RN or BSN?

The order in which one earns their RN (Registered Nurse) and BSN degree can vary. One can become an RN through different pathways, including completing an associate's degree in nursing (ADN) or a diploma program, in addition to passing the NCLEX-RN exam. After becoming an RN, individuals can choose to pursue a BSN through an RN-to-BSN program. However, some individuals choose to complete a BSN program directly, which qualifies them as an RN upon graduation.

Can you earn a BSN with a bachelor's degree in another field, like Chemistry or Biology?

Yes, it is possible to earn a BSN with a bachelor's degree in another field, such as Chemistry or Biology. There are specific programs known as accelerated or second-degree BSN programs designed for individuals who already hold a non-nursing bachelor's degree. These programs build upon the existing knowledge and provide an accelerated path to earning a BSN in a shorter timeframe, typically around 12 to 18 months. This option allows individuals to leverage their prior education while transitioning into a nursing career.
A Page will cost you $12, however, this varies with your deadline. 
We have a team of expert nursing writers ready to help with your nursing assignments. They will save you time, and improve your grades. 
Whatever your goals are, expect plagiarism-free works, on-time delivery, and 24/7 support from us.  
Here is your 15% off to get started. 
Simply:
Place your order (Place Order) 
Click on Enter Promo Code after adding your instructions  
Insert your code –  Get20
All the Best, 
Cathy, CS